For teams east of the Mississippi, the end of a West Coast road trip–even the most successful of ventures–is usually a feat of endurance rather than a victory lap.
Yet, the Brewers entered Thursday night's Chavez Ravine showdown with the peaking Los Angeles Dodgers having gone 5-2 on their California tour with one tilt remaining before boarding a flight back to God's country. The Dodgers featured Clayton Kershaw, while the Brewers could be reasonably confident with de facto ace Jhoulys Chacin leading the charge.
By the time the third inning ended, the Brewers couldn't get back on the plane home fast enough.
The score, as you are no doubt aware, ended up being a 21-5 obliteration at the hands of the home nine. Hey, at least we got the George Webb burger run out of it. Yay?
Snap Throw is a recurring feature on BtB taking a deeper look at the pivotal moments in games. Have an idea for a snap throw? Tweet us @Bronx2Bushville #SnapThrow and a link to a video.
This contest was much more closely fought before Cody Bellinger's back-breaking third inning grand slam. Entering the inning, Chacin had thrown only 36 pitches and, by all appearances, looked like he had settled down with a strong second, retiring Brian Dozier, Max Muncy and Yasiel Puig in order.
Kershaw grounded out and Joc Pederson reached on an error by the newly-acquired Jonathan Schoop. Manny Machado hit a seeing-eye single back through the box that could have been a long-shot double play or, not unreasonably, a fielder's choice at second. Chacin could have been out of the inning in a stretch or, more likely, could have had a runner at first with two out.
It's what happens after the Machado single where things go sideways. Lorenzo Cain fields the single and throws it back to second, where Orlando Arcia is stationed. The throw lacks conviction and Arcia botches the catch, allowing Pederson to advance to third. With no one backing up the play behind Arcia, Pederson scores easily. The viewer can see the momentum beginning to teeter toward the Dodgers.
There has been lots of talk about the Brewers defense. Some have called it the best in the National League, which was true, but only when referring to Defensive Runs Saved. Many of those same people boasting the defense have conveniently forgotten that it was atrocious in the early goings of this campaign [EDITORIAL ASIDE: …and were also clamoring hard for the Brewers to get a starting pitcher, some of whom loudly citing stout defense as reason to get said starter. If the defense is so good, why get a pitcher? Good defense in baseball is a credit to the status quo. For the last time: this isn't football. You don't shore up defense with pitching like adding a safety to a porous secondary. Not that that seems to work in Green Bay, anyway. And not that that will stop many on the current bandwagon from ignoring the Brewers as soon as September hits. Anyway, I digress.]
Yes, the defense has been vastly improved for a long stretch, but this was strange in that Cain–a Gold Glove-caliber outfielder with a plus-arm and typically one of the hardest workers in the field–lazily relayed to Arcia, who lazily received the ball (and while unusual, isn't entirely out of the question. Arcia has a Go-Go streak to him that flares up from time to time. This was a most inopportune time.) Also, where's Gold Glover Christian Yelich in all this?
Yelich should be closer to the infield to help precisely for this kind of situation. It appears he hasn't moved at all since the play began. An error, a single, a lazy throw, a lazy attempt at a catch and a right fielder watching with disinterest as the Dodgers take a 2-1 lead.
Everything about this is a bad look.
Chacin is clearly rattled now. Brewers pitching, though stout, has been prone to these kinds of mental breakdowns in recent years. Part of it is entirely justifiable: the defense should be doing its job and that kind of let down in the field disrupts a pitcher's concentration, flow, mental equilibrium, chi, the Force, whatever you want to call it. These things don't just get erased in just about any pitcher's mind.
And yet, Chacin comes back and throws Justin Turner two strong called strikes and putting himself into strong position for the out. Slider down and away, ball; hanging two-sean fastball, fouled off; slider inside, HBP.
Slider inside? Erik Kratz isn't trying to get a backdoor K here. The pitch, his 19th of the inning, entirely got away from Chacin.
Yasmani Grandal comes to the plate, still one out, now with Machado at second (by steal) and Turner at first. Chacin, now having been let down by the defense and his own slider, falls behind 3-0. He then comes back fastball- slider for called strikes one and two. Kratz calls for a slider down and in. Home plate umpire Brian Knight is sitting directly above the inside corner of the plate.
Chacin delivers a beautiful breaking slider, almost a slurve, perfectly nestled into the low inside corner. Kratz receives it perfectly.
Ball four.
Dodger Stadium doesn't erupt, the home crowd doesn't do much of anything at all. (Insert punchline here.) Grandal and the Dodgers were gifted a walk to load the bases. Brewers Twitter goes ballistic. Dodgers Twitter stands pat, their general silence speaking volumes.
Jhoulys Chacin, betrayed by his defense, his stuff and now the home plate umpire, comes off the mound, arms outstretched. It's a tantrum, to be sure, but Knight's call is about as bad as Frank Drebin trying to prolong the inevitable 7th inning stretch in The Naked Gun.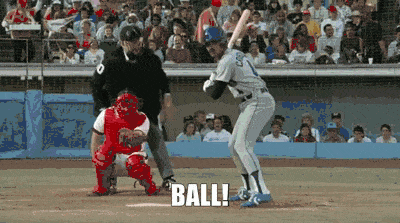 After Derek Johnson comes to the mound to try to rein in Chacin, Bellinger comes to the plate. The first pitch, a fastball clearly off the plate, is called strike one. Knight with the NBA-grade make-up call: a concession to Chacin, the thousands in the stands and thousands more watching that he screwed the pooch.
Chacin then comes back with that same strike-three slider–this time, a mistake–and Bellinger hammers it off the right field foul pole.
Grand slam.
Is Kratz trying to drive the point home? Bellinger likes the ball two places: down the heart of the plate…and down and in, where he is hitting. 305 and slugging .565 this season. Kratz has no business calling the pitch there and Chacin has no business delivering it. Chacin's slider–that tantalizing, electric slider that enticed David Stearns to sign him in the offseason–slid right into Bellinger's hot zone. Replay looks like Kratz is setting up on the outer part of the plate.
Is Kratz trying to drive the point home? No. Chacin missed his spot. It was his 66th pitch of the night. And it shouldn't have happened.
Yet, this is exactly what happened: the game is blown open and Chacin allowed to stumble and bumble to a 4 1/3 inning performance that saw his ERA go up by nearly a half-run. (Counsell should have pulled a Sparky Anderson then and there, but that's a separate matter.)
Long story short, Jhoulys Chacin's meltdown wasn't even entirely his. The entire team let him down. Then he failed.
Thankfully, 21 runs within nine innings still only counts for one loss. But, as this team already knows, one loss can be the difference between playing in September and October. Every moment matters.
Brent Sirvio is a co-founder of Bronx to Bushville.